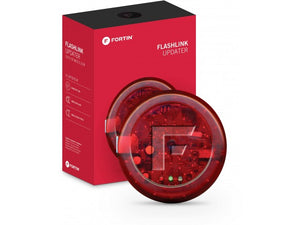 Fortin FlashLink Updater - Firmware Update Tool for Windows
FlashLink
Regular price
$48.80
Sale price
$59.31
Unit price
per
The FlashLink Updater device allows you to update the firmware on your Fortin bypass modules and remote-starters in a matter of seconds using the Fortin FlashLink Manager software for Windows [1]. The FlashLink Updater will work with modules that have bar codes stamped on the label and will allow you to upgrade/downgrade the firmware version on any of our supported modules through a USB cable, PC and Internet connection.
Product Features
On-board status LEDs
User-friendly interface
DCryptor capability
Internet upgradeable
FlashLink Updater module supplied with USB-C cable and detailed installation instructions
Ability to update Fortin 2-Way data modules with the bar-code to any vehicle specific firmware
Includes Windows drivers (98/2000/XP)
Compatible with PC and an internet connection
Customization features and module options directly from the FLASHLINK Manager menu
Simple point-and-click enable or disable functionality
Access installation guides directly from the FLU menu
No internet required to disable or enable features in the options menu
Product Specifications
The user can disable the following features enabled by default:
Door Locks
Trunk Release
Key Bypass
Heated Seats & Rear Defrost
Foot-Brake Output
Hand-Brake Output
Door Trigger
Trunk Trigger
Hood Trigger
Auxiliary 1
Auxiliary 2

The user can enable the following features disabled by default:
Unlock/Lock (disarm factory OEM alarm)
Unlock drivers door priority only
Aftermarket alarm control via OEM remote
Engine-Start via OEM remote by pressing 3x lock
Enable RF kit functionality by brand
Enable EVO-ALL alarm features
Parts Included
1 x FlashLink Updater module
1 x USB cable (Type B)
1 x Fortin Data-Link cable
Legend
[1] Microsoft Windows 10 (32-bit and 64-bit), Windows 7 (32-bit and 64-bit), Windows 2008 (32-bit and 64-bit), Windows XP (32-bit and 64-bit).
Please note: Due to COVID 19, transit times may take longer than expected. These delays are due to volume and safety precautions taken by the Carriers to reduce the risk of exposure.
We are here to help you find the right solution for your vehicle. Here are some answers to the questions you may have before you order something from us.
Our objective is to provide you with a solution for a reliable and easy-to-install system and not just "moving boxes." As you can see, our listings, where the product allows, are based on the most common options that you may want to use. You will notice the price of the prebuilt packages is lower than adding the same products in your cart separately.    

With so many options available, we can help you build an A La Carte Solution compatible with your vehicle if you are unsure what system to choose. Click the "A La Carte Solution" link to submit the request form.
If you are looking for a different product or solution not found here, don't hesitate to contact us using Chat or the Contact Form.
Before Installing a Product - If you decide to install any products sold by Shark Electronics on this website, you must review the most current Product Guide, Installation Guide, User Guide, Owner's Manual and any other vehicle-specific notes available on the manufacturer's website. You are solely responsible for determining if you have sufficient technical knowledge of your vehicle's systems to avoid installation errors that damage expensive vehicle components.
Damages - Shark Electronics is not responsible for any damage whatsoever caused by an installer to a user's vehicle, including but not limited to any direct, consequential or incidental damages, damages for loss of time, earnings, business, profits, economic opportunity and the like that may result from the use, misuse, improper installation or operation of its products.
Shark Electronics is not responsible for any damage arising from or caused by a self-installer to the product or the vehicle, including any direct or consequential damages whatsoever. By performing a self-installation of any product purchased from us, the user releases Shark Electronics from any claims for damages it may have or may arise as a result of the self-installation.
Flashing Firmware - We can program your module before shipping if only one-step flashing is required. Enter your vehicle information during checkout:
Year,  Make and Model

Key-Start or Push-to-Start

Gas, Diesel or Hybrid
Automatic or Manual

Compatibility - Product compatibility is always subject to change. Check the manufacturer's website for the most up-to-date firmware, installation manual and vehicle-specific details. We try to provide the most up-to-date compatibility by including direct links to the product page.
Range - The remote range is based on line-of-sight unobstructed testing under ideal conditions. The actual range will vary due to local conditions including, but not limited to, environment, terrain, physical obstructions, vehicle location and orientation, interference and other possible impediments.
Website Navigation - You will find most of the listed products using the main menu. Our instant search box is the shortest way to reach an item if you already know the product name, model, or SKU. If the product is not in the drop-down list, just hit enter, and the refined search page will open. Here you have multiple options to filter your search. 
Shipping - We ship 95% of the orders in 2 - 4 business days. For big orders, you may receive them in more than one shipment from different warehouses. Shipping & Handling
Shipping Cost - With shipping costs increasing every year by 3-4% and us wanting to keep our product prices accurate and not inflated by "Free Shipping," we offer you the best live shipping rates at checkout. If the live shipping rate changes significantly between the time you placed your order and when we printed the shipping label, we will refund you the difference. If we can find a comparable service (same transit time) available at a lower rate, we may use a different Currier and refund you the difference.

Returns - You have 30 days to return an order. Returns & Exchanges
Warranty - All products sold by Shark Electronics Ltd. are covered under our Standard Warranty for one year from the date of purchase. Shark Electronics Ltd. warrants the product to be free from defects in workmanship and materials for the warranty period. If the product fails during regular and proper use within the warranty period, Shark Electronics Ltd. will replace the defective parts of the product, or the product itself, with new or reconditioned components or products that are functionally equivalent or superior to those originally supplied. Our Standard Warranty does not cover misuse, improper installation, or abuse of the product. Products that have been damaged, modified, or tampered with are not eligible for warranty coverage unless our Technical Support Team specified the modification. All warranty claims are handled on a case-by-case basis.
Payment - We accept all primary forms of payment. All transactions are secure and encrypted. 
Fraud - We reserve the right to refuse any order you place with us flagged as possible fraud. Make sure that your billing information matches the credit card information.
Phone Orders - To prevent credit card fraud, phone orders are not available.
Product Pictures - Images are for reference only. See the product description and specifications.
Policy - Our policies are available throughout the site and at checkout.
---
Share this Product
---